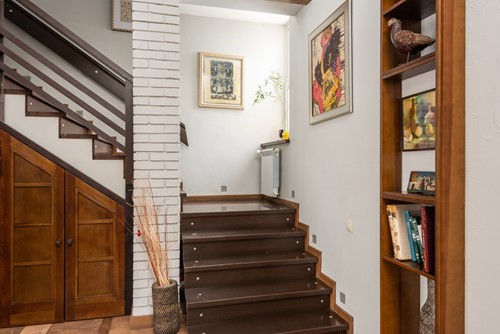 Carpet has been a popular cover for stairs for decades and continues to endure in modern trends. There are many benefits to carpet on stairs, including noise reduction and extra cushioning. However, carpet on stairs is not for everyone. If you're considering an alternative to carpet on the stairs in your home, here are the best options to consider:
Wood
Wood is the most common and traditional building material for stairs. No matter what you have on the surface, wooden stairs are probably underneath. Hardwood makes a great material for stairs because of its durability. You can also stain or laminate it for a specific look and finish. The major disadvantage of hardwood on stairs is that it can be slippery. The best way to mitigate this is with strips of anti-slip tape at the end of the stair tread.
Tile
Tile is an incredibly versatile and popular option for stairs. Because tile comes in a plethora of colors and textures, you have an enormous amount of freedom in terms of design. There are stone and ceramic tiles for a classic, luxurious feel and smaller artistic mosaic options. With tile, you can make your staircase a statement in your home rather than a purely functional feature. Textured tiles are a great way to prevent slipping.
Stone
Solid stone or concrete stairs are common in industrial or commercial buildings. While they're virtually indestructible, they are heavy enough that you'll need to make sure your foundation can support them in your home. Stone and concrete stairs will stand the test of time and provide a cool industrial style to your home. However, this is one of the more expensive options available, which is why many designers recommend using stone veneer as a cheaper alternative.
Cork
Cork is an excellent alternative to carpet because it provides cushion and comfortable texture. It looks like natural wood but is low maintenance and durable. The texture also has built-in protection from slipping which increases the safety of the stairs. Cork is also a sustainable material option for those interested in making green choices in their home renovations.
Leather
Leather is an up-and-coming trend in stair coverings. It's soft like carpet but has a more luxurious finish while staying comfortable underfoot. Leather stair treads come in plenty of colors and textures to fit your style needs, including some with special designs and borders. Leather requires regular maintenance to keep looking and performing its best. Protective finishes to prevent staining and moisture damage are crucial.
While there are many styles of carpet available for your stairs, these alternatives might be a suitable option. Keep these materials in mind if you're considering making a change.